Our company introduces human resources in a wide range of fields, including information processing, electrical and electronics, machinery, sales, personnel and general affairs, and administrative work.
We can help you reduce expenses and labor to carry out efficient recruitment activities.
Please start by telling us what kind of personnel you are looking for.
Structure of Personnel Placement Services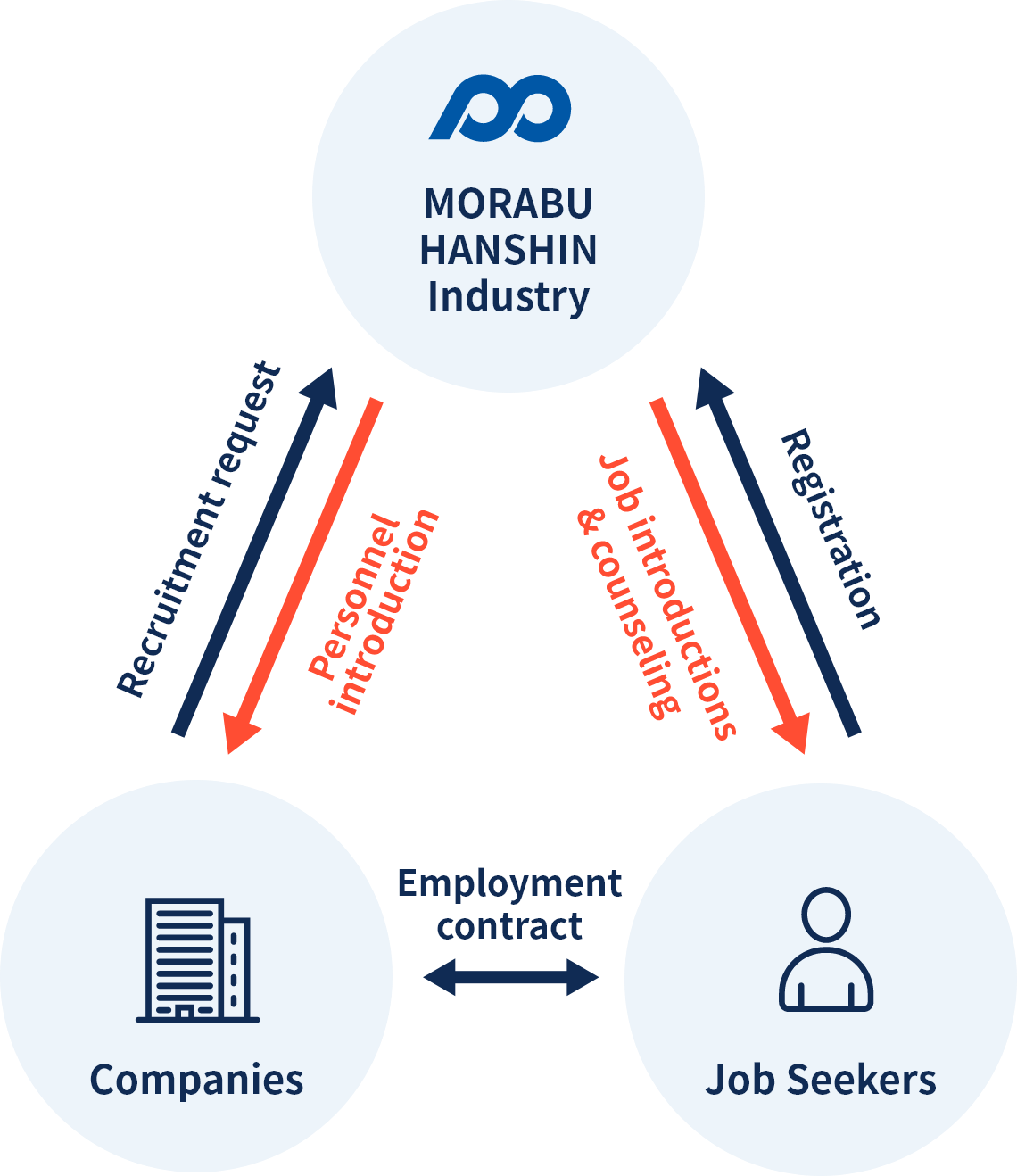 We recommend our services
to these kinds of companies
We want
to make the hiring process easier.

We don't know much about hiring,
but we want to hire the people we're looking for.

We don't want to waste money,
so performance-based compensation is preferable.
The Strengths of MORABU HANSHIN Industry
We accurately grasp the needs of companies and introduce the ideal human resources.
Utilizing a pay-for-performance system means we don't accept any payment until the hiring decision is made.
Prompt Introduction to Ideal Personnel

Our company introduces human resources with expertise in an array of fields. We meet face to face with each and every individual we vet and carefully coordinate so we can quickly suggest personnel that meet customer needs.

No Payment until the Hiring Decision is Made

Our company works on a pay-for-performance system, so we don't accept any payment until the hiring decision is made. If an employed individual leaves a company early on for personal reasons, we return half the fee. (The term of guarantee is 1 month.)

Preventing Early Exit through
a "Temporary-to-Permanent Dispatch" System

Premised on direct employment as a full-time employee, our customers can choose "temporary-to-permanent dispatch" that switches to direct employment after the completion of a worker dispatch contract (max. 6 months) that serves as a specified assessment period, if both parties are in agreement. Because our customers can hire personnel after ascertaining skills and character, it prevents employees from exiting a company early.
List of Companies that Utilized Our Personnel Placement
We have introduced the ideal human resources according to a company's needs.
These are some of the companies we have worked with successfully to date.
ITEC Hankyu Hanshin Co., Ltd.

Asaka Industrial Co., Ltd.

ESPEC Corp.

Osaka Gas Security Service Co., Ltd.

Okumura Engineering Corporation

Kawasaki Heavy Industries, Ltd.

Kawasaki Setsubi Kogyo Co., Ltd.

KAWAJU FACILITECH Co., Ltd.

Kurimoto, Ltd.

Chemipro Kasei Kaisha, Ltd.

Kobe Steel, Ltd.

Sansha Electric Manufacturing Co., Ltd.

Shimizu Corporation

Daicel Corporation

Taiyo Kogyo Corporation

Daiwa House Industry Co., Ltd.

Toyo Machinery & Metal Co., Ltd.

Nakanishi Yusoki Co., Ltd.

Nabtesco Corporation

Japan Bridge Corporation

Fuji Electric Co., Ltd.

Furuno Softech Co., Ltd.

Mitsubishi Electric Corporation

Mitsubishi Electric Information Network Corporation

Mitsubishi Electric Engineering Co., Ltd.

Mitsubishi Electric Software Corporation

Ryoyu System Engineering Co., Ltd.
And more (in Japanese syllabary order; honorifics omitted)
Our company is able to accommodate a wide variety of operations in various fields based on the technologies we have cultivated through many years of personnel dispatch.
Please feel free to reach out to us.
Information Processing / Electrical & Electronics / Machinery / Engineering Support / Civil Engineering / Construction / R&D / Sales / Personnel and General Affairs / Accounting / Administrative Work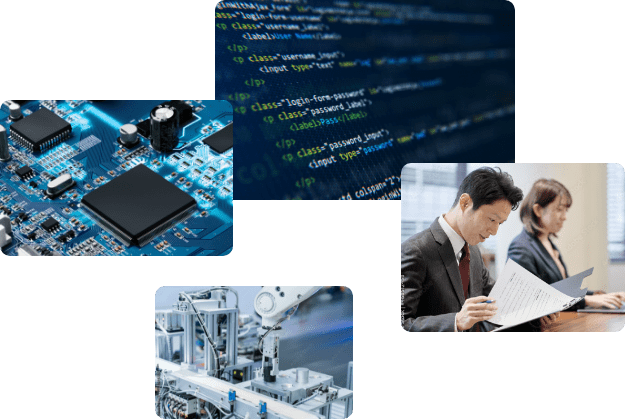 An introduction to other business carried out by MORABU HANSHIN Industry.