Education Programs
& Support Systems
TOP
Education Programs & Support Systems
Workplaces utilizing advanced technologies continue to evolve daily, and securing qualified human resources compatible with the task at hand and company circumstances has become a necessity.
To meet our customers' needs, we strive to provide not only personnel with highly specialized technical skills, but also support for human capital as members of society and a greater sense of purpose.
New Graduate Training Process
Determination of unofficial offer of employment

Joining MORABU HANSHIN Industry

Business etiquette training

Training from outside professionals

Guidance on acquisition of qualifications

・Secretarial Skill Proficiency Test
・Business Documents Proficiency Test
・IT Passport Test
・MOS (Specialist)
・Fundamental Information Technology Engineer Examination

Technical training

・Information processing
・Electric/machinery

Dispatch assignment/Systems development division assignment

Technical training

Periodic interviews
Our company fully supports skills improvement for engineers through unique training programs tailored to the goals of each individual. We build a framework for shaping careers from present day into the future as engineers possessing market value.
Training System for New Graduates
Technical training

We carry out training on contents common to all engineers, and training designed for work contents related to planned employment and work that trainees aspire to. Offering training in a variety of forms supports career advancement for engineers.
On-the-job training (OJT)

OJT involves employees in business through participation projects for major companies. Employees can learn about technology from those with more experience while engaging with the latest technologies. Soon after joining our company, employees improve and acquire technical skills through involvement in

long-term

projects.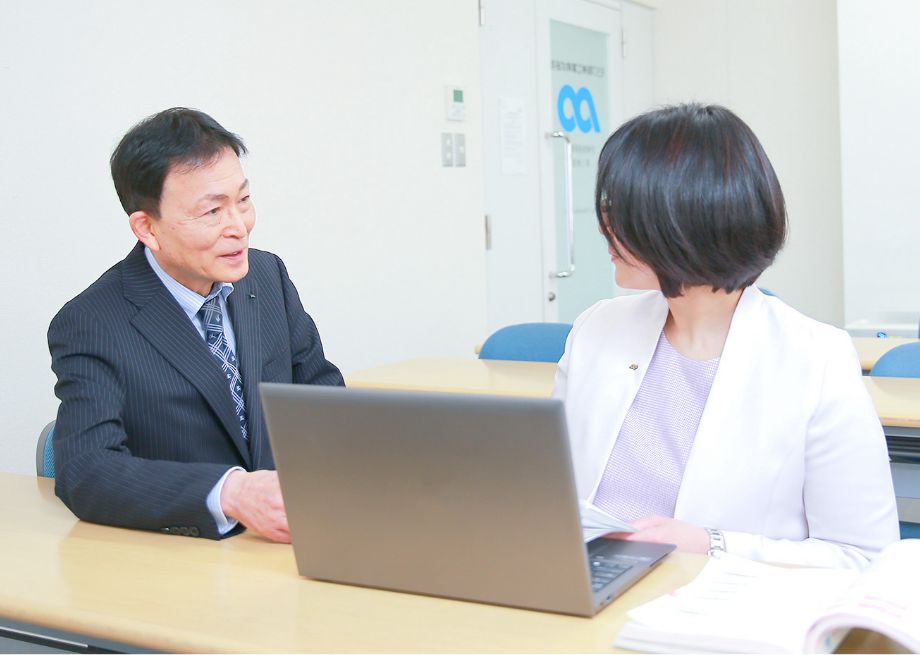 New Graduate Introduction and Employment Transfer System
Companies can directly hire young engineers capable of hitting the ground running.

For three years after joining our company, new graduates gain experience at client companies as dispatched workers and can be directly employed after having acquired technical skills and knowledge. This enables companies to offer employment after making a full assessment during the temporary dispatch period.
Support for Acquisition of Qualifications
With the aim of bolstering the technical and business skills of employees, we have adopted unique training programs to increase individual skill levels.
We provide full-fledged assistance with acquisition of qualifications for engineers. This includes seminars for qualifications acquisition and financial aid for examination fees.
We offer a training system that allows employees to select the technical courses that suit them and study online during their free time. This lets them proceed with learning according to their level of understanding and study an array of contents in addition to technical expertise.
Examples of course contents

・Intensive study course for the CBT-supported IT Passport Test
・Basic knowledge of networks
・The business mind and ways to do business
・Leadership that successfully fulfills goals
・Skills diagnostic test (ASP / C++ / C / HTML / Java / Linux / UNIX / other)
・Business etiquette and business documents
・Persuasive presentations
・Last-minute preparation test for Oracle Master Silver DBA I (9i), other
We offer technology-related distance learning courses provided by Japan Technology Education (JTEX), a vocational training corporation.
Engineers choose courses from the approximately 300 available to study a wide range of areas.
Examples of course contents

・Beginner's electronics (flow of electricity–information-processing equipment structure)
・Introduction to embedded systems
・Basics of digital circuits/basics of analog circuits
・Course for passing the Professional Engineer Examination (machinery, electrical and electronics, information engineering divisions)
・Learning machinery construction through specific examples
・Basics of sequence control
・Preparing for the Project Manager Examination
・Automated machine design practicum (application), other
List of Main Qualifications to be Acquired
IT/information-related qualifications

Network specialist / Database specialist / Applied information technology engineer / Fundamental information technology engineer / JSTQB test engineer qualification certificate, Advanced Level Test / Information security management / IT Passport / JSTQB test engineer qualification certificate, Foundation Level / Python 3 Data Analyst Certification / Oracle certified Java programmer (OCJP), Bronze / Excel VBA Standard / Python 3 Certified Engineer Basic Examination
Environment, technology,
industry-related qualifications

Printed circuit board manufacturing technician, Special Grade / Printed circuit board manufacturing technician, Level 1 / Mechanical, plant drawing engineer, Level 1 / Printed circuit board manufacturing technician, Level 2 / Electrician, Class 1 / Telecommunications equipment installation technician, General / Chief electrical engineer, Class 3 / Licensed architect, Class 2 / Qualified energy manager / Mechanical Design Engineer Test, Grade 3 / Electrician, Class 2 / Real estate notary
Business-related qualifications

Test in Practical English Proficiency, Grade 1 / TOEIC (min. 850 points) / Social insurance and labor consultant / Test in Practical English Proficiency, Grade Pre-1 / Career consultant / Hazardous materials engineer (Class A) / Health officer, Class 1 / Financial planner (FP), Grade 2 / MOS Exam, EXPERT (Word, Excel)
Our company is committed to creating an environment that empowers engineers to work with peace of mind over the long term. We put working 'people' first and increase the technical skills of our employees, as well as strive for their growth as human beings. That desire also leads to gaining the trust of companies.
Persons in charge of personnel, training,
and sales collaborate
to build a structure that
addresses individual work styles and concerns.
Caring Support for Engineers

Even after an individual has been dispatched to a company, a MORABU sales manager periodically meets with that person to provide mental support and other assistance.

Career Advancement Support for Engineers

We have a system that lets even inexperienced employees grow as engineers by providing career consultants to help employees with their career plans.

Skills Improvement Support

We carry out technical training not only at worksites, but also within our own company. The contracted development team provides guidance so that employees learn practical technical skills through actual work.
Watch a video to learn about MORABU HANSHIN Industry
This video gives a more
detailed explanation of our support system.
Amagasaki Training Center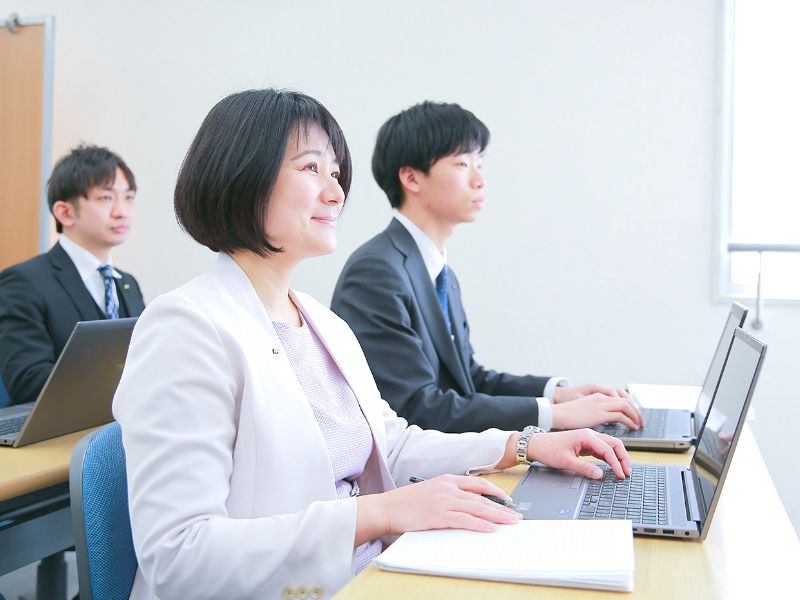 We have our own training facility that conducts training for acquiring basic IT knowledge.
Not only does the center offer training in accordance with employees' individual levels and work contents, but it also assists with improving skills based on company requests and the nature of their work.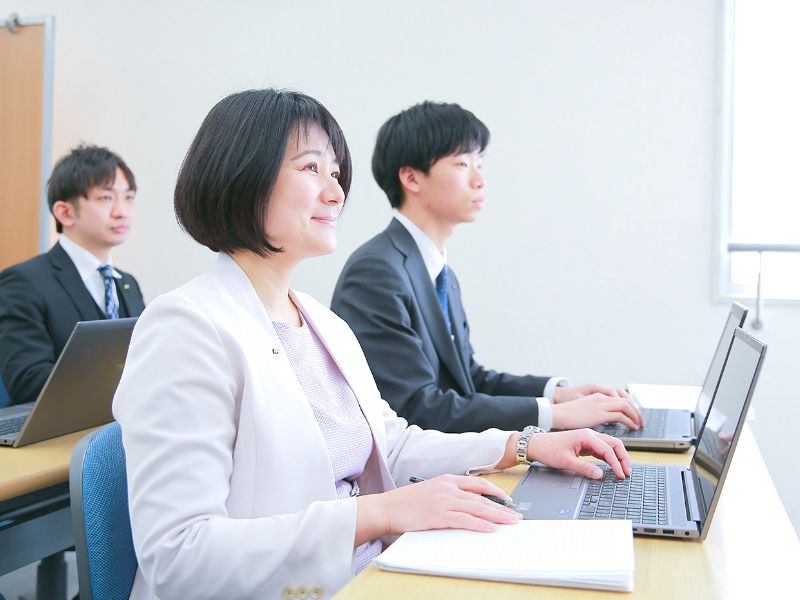 Introducing the Teaching Staff
An introduction to our teaching staff at Amagasaki Training Center.
We have a support system in place that is always ready to provide answers to questions.
Assistant Director, Systems Department Manager, Human Resources Development Department Training Division

Manabu Murata

Role:

C programming language instructor

Education:

Department of Mathematics, Faculty of Science, Kobe University

Qualifications:

Embedded systems specialist, database specialist, network specialist

Section Manager, Amagasaki Training Center

Susumu Adachi

Role:

VBA language instructor

Education:

Doctorate of Engineering in Materials Engineering, Graduate School of Engineering, Hiroshima University

Qualifications:

Fundamental information technology engineer

Human Resources Development Department Training Division

Masahiro Ikeda

Role:

Electrical and electronics instructor

Education:

Department of Electrical Engineering, School of Engineering, Kyushu University

Qualifications:

AI DD installation technician / Electrician, Class 2

Workshop Instructional Designer, Amagasaki Training Center

Yorika Hiraoka

Role:

SE business etiquette instructor and design, implementation, and operation of qualification training

Education:

Japanese Course, London College of Education, Graduate School

Qualifications:

e-learning professional (eLP) / Postgraduate Certificate in Teaching Japanese as a Foreign Language / Japanese language teacher for jr. high school / mental trainer