Message from the President & Management Philosophy
Message from the President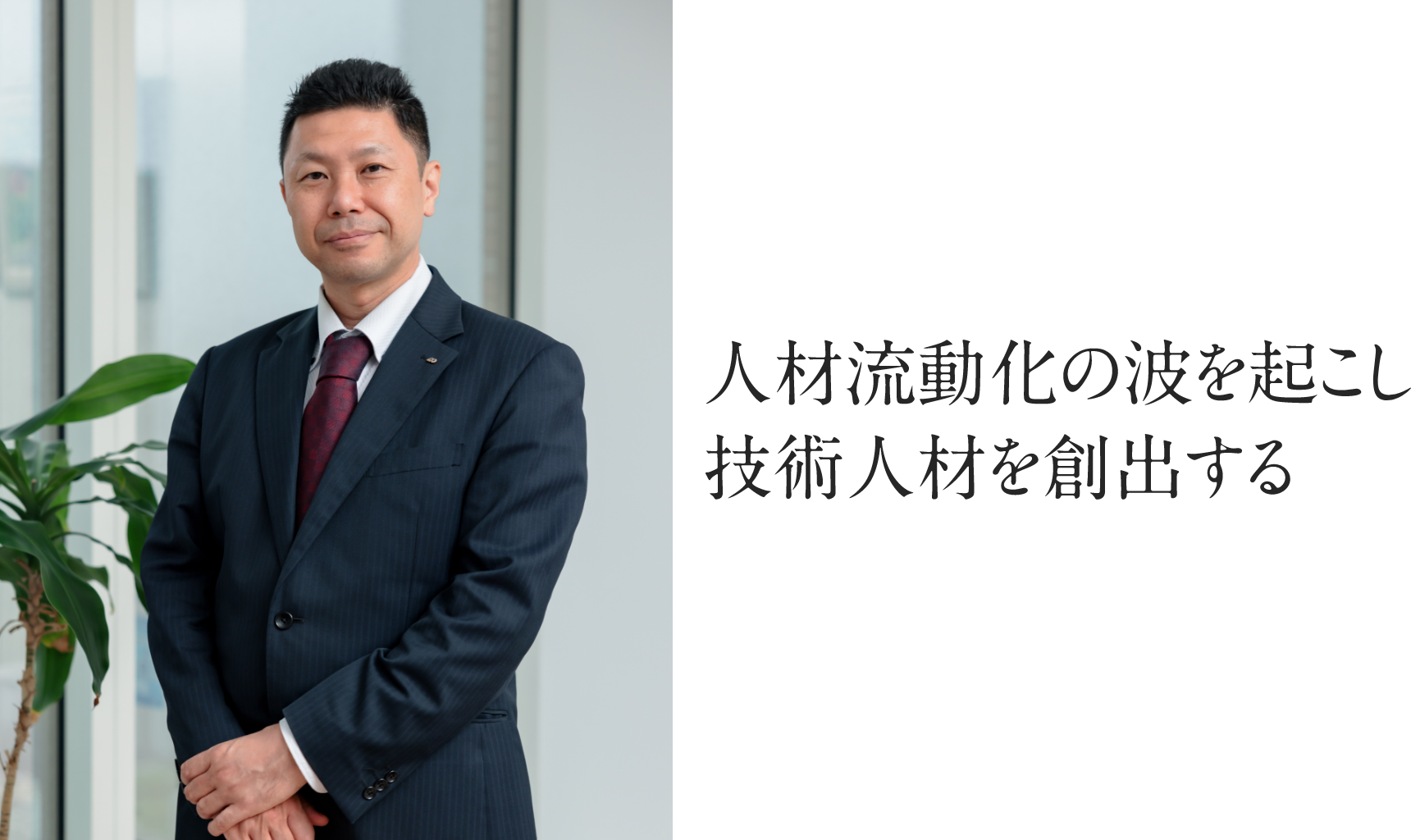 We contribute to the Japanese economy by providing the most effective utilization of personnel from the standpoint of respect for humanity.

We proudly engage in the advanced technology industry,
and continually improve our technologies to contribute to the industry through software development.
This MORABU Declaration is a code that our employees follow,
and could also be known as MORABU's Employee Charter.
Each and every employee has a spirit of independence and self-reliance,
gathered under MORABU Corporate Motto of their own volition
for self-realization through our corporate activities (work). This is what makes a MORABU employee.
With our employees embodying the MORABU Declaration,
this philosophy will be made widely known to society as the corporate entity called MORABU.
Do not align yourself with those who have no fighting spirit

But face challenges with unwavering will for the sake of our mission.
Do not befriend those with no integrity

But conduct our business with sincerity and without self-interest.
Do not befriend those who do not seek mutual prosperity

But know that only the path of mutual prosperity leads to true prosperity.
Do not align yourself with those who do not follow the law

But respect the law and follow it in your actions.
The company song "Song of MORABU" was composed by exquisite pairing of Taro Kida, the "Mozart of Naniwa," with Shohei Mozu providing the powerful lyrics. It is a song with a brisk tempo that inspires the morale of MORABU employees.
Lyrics: Shohei Mozu  Music: Taro Kida
If you want a better tomorrow
Look up to the stars in the sky
Find the North Star and set sail
Raise the flag of Motivación, Razón, and Búsqueda
Sail together as one, friends of MORABU
Even in the withered winter mountains and plains
Spring will surely come again
Never doubt that flowers will bloom in the future
Raise the flag of Motivación, Razón, and Búsqueda
Walk together as one, friends of MORABU
If you have the ambition
Be brave enough to go into the wilderness
And stray from the beaten path
Raise the flag of Motivación, Razón, and Búsqueda
Move forward together as one, friends of MORABU
*Press the "Play" button to hear audio of the song.
Origin of the Company Name
The name of our company, MORABU, is derived from three key words – Motivación (motivation), Razón (reason), and Búsqueda (pursuit) –
which represent the three elements of MORABU's mission: to heighten motivation and intellectually pursue profit.
With technology and personnel as the pillars of our business, and in the spirit of co-existence and co-prosperity, individual enrichment leads to the development of companies, which in turn leads to the prosperity of the Japanese economy as a whole. This is our hope and the mission of MORABU. We at MORABU, in order to build a new future by gathering the country's technological strengths in this era of drastic, global changes in industry and business, will create a system that allows each and every one of our employees to feel the joy of contributing to society by enhancing their skills and moving forward with passion and pride.
MORABU HANSHIN Industry, as a company involved in the personnel staffing business, recognizes that personal information is an important asset of individuals, and was one of the first companies to obtain PrivacyMark certification in 2006.
To this day, we continue to ensure that personal information is handled and protected appropriately.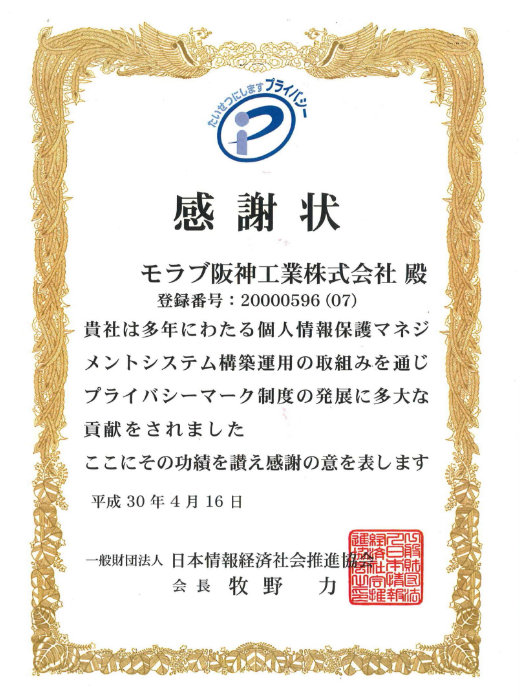 An overview of our company, a greeting from the President, and an introduction to our management philosophy.